Yep. Lots of projects, maybe too many...
We hope that at least some of them will be realeased...

---
One of our biggest projects right know is:


The story:

Outsider is set in a dark future where people live in stress and dispair. One of your friends have been murdered, and someone is framing you for it. You were born in the city, raised by the world. Noone cares if you lives or dies.

You're on the outside.

Your home. (Graphics from "Outsider")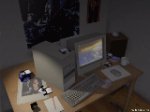 ---
A Third Project is:
Bingo Attack


The 100% pure evil berra is
about to take over the world.
And you must stop him...
This will be a real bloody
"MEGA-action!-shoot-AND-KILL'EM-ALL" game.

---
Kung Fu Fighters


This is a coming 3D-Fighting game.
Based on the good old C64 game IK+
Programming by Pablo de Heras in Direct3D

---
Another project is:

[a Demo]

Nothing is really FINISHED yet...
except for this little pic...
If you've been around since the start,
U may recognize this one ;-)
We have a small collection of demoeffects,
some music...

---


...Take me to the Index page